What is OpenDNS Updater?
OpenDNS Updater is useful if you have a dynamic IP address. It detects changes to your IP address and notifies OpenDNS service about the change so that your OpenDNS settings continue to be applied to your network.
Initial Setup
When you run the program for the first time, it will ask for your OpenDNS account username and password.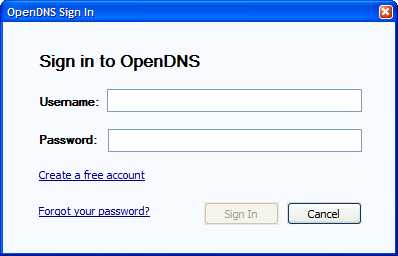 If you have more than one dynamic networks in your OpenDNS account, the program will ask you to select the network whose settings to use for this computer. If you only have one network, it will be used automatically.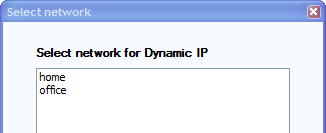 Status Window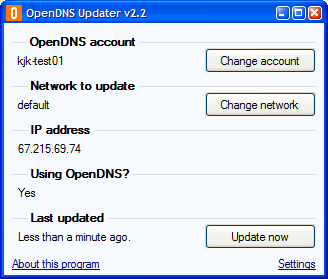 Status window shows the following basic information:
The OpenDNS account being used
The network being used
The current IP address of your computer
Whether or not you are currently using OpenDNS service
When you last notified OpenDNS of your current IP address
It also allows:
Changing OpenDNS accounts
Changing networks
Forcing notifying OpenDNS service about your current IP address
Disable sending notification about IP address change
OpenDNS Updater configures itself to automatically start at login time.
Hidden Mode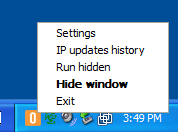 Even if you close the program window, it shows its icon in the system tray area of Windows task bar. You can make the program even more hidden by choosing "Run hidden" menu item from contextual menu in system tray icon.
When running in hidden mode, you can see status window by launching the program from Start menu.
Settings Dialog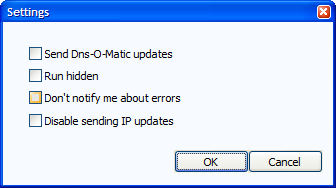 The settings dialog window offers the ability to toggle whether or not you want to send DNS-O-Matic updates, run the program hidden (without a tray icon), become notified of errors or disable the sending of IP updates.
Disabling Error Notifications  
Disabling Error Notifications
When an error happens, the program will notify you by showing status window with error message describing the problem. Sometimes this might happen often and be distracting. You can disable those notifications by clicking "Stop nagging me" link present after error message. You can re-enable notifications by clicking "Start nagging me" link.
Please note that by disabling notifications about problems you might miss a configuration problem.
Viewing IP History
To see the history of IP updates, select "IP updates history" menu it contextual menu. You can use "Copy history to clipboard" to copy the list to clipboard, so that you can paste it into another application like text editor.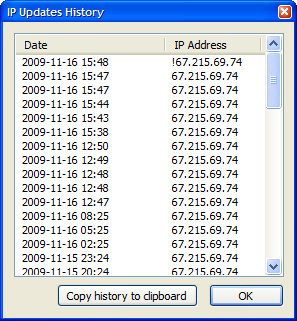 Common Problems
You're not using OpenDNS
Your computer or network is not configured to use OpenDNS service. Learn how to configure a computer to use OpenDNS service.
For technically minded: the program determines if your computer is using OpenDNS service by trying to resolve myip.opendns.com address using your DNS server. Only OpenDNS's servers know how to resolve this particular address so if we don't get the right response, we assume that OpenDNS service is not being used.
Your IP address belongs to a different network
This happens most often when using someone else's network (e.g. public wireless hotspot, a friend's wireless network etc.). Each OpenDNS user is uniquely identified by an IP address. If you use someone else's connection which is already configured to use the OpenDNS service, we then detect that more than one OpenDNS account claims to use the same IP address.
If you're temporarily using someone else's network connection, you can ignore this error. If you believe this IP address really belongs to you, you can contact support.
HTTP vs. DNS IP address mismatch
This happens most often when you use an HTTP proxy. OpenDNS service recognizes your computer by IP address from which DNS requests are made and applies your filtering settings based on that information. When using HTTP proxy, the requests might come from a different computer, which will have a different IP address and OpenDNS service will not be able to apply your filtering settings.
Release Notes
Version 2.2.1 (2010-06-16)
change 'Username:' to 'Email:' in login dialog
Version 2.2 (2009-11-16)
support for DNS-O-Matic
added settings dialog
fix sending updates for networks with spaces in their names
fix logging of successful ip updates (for ip updates history dialog)
Version 2.1 (2009-09-23)
Added option to view IP updates history
Made "run hidden" mode persistent
Smaller memory usage when window is hidden
Add option to disable notifying about errors
Version 2.0 (2009-09-01)
First release of 2.0 line, with redesigned UI