Overview
Using OpenDNS starts by making a configuration change in the DNS settings of your home router, on individual computers, and wireless devices. Once OpenDNS is configured, administrators set and manage OpenDNS's advanced features, such as Web content filtering and security, by logging in to their OpenDNS account.
Table of Contents
OpenDNS Home Packages
Home users can create an OpenDNS account by choosing one of the options below.
OpenDNS Home offers free protection for 1 network that includes speedy RFC-compliant DNS resolution.

OpenDNS Home VIP  offers the same features as OpenDNS Home but with an additional 25 domains you can blacklist/whitelist.  

OpenDNS Family Shield is especially geared toward protecting your family. 208.67.222.123 and 208.67.220.123 are our FamilyShield DNS servers.  They are configured at the server level to block 4 categories (Pornography, Tasteless, Proxy/Anonymizer, and Sexuality).

For more information on our Home Packages please reference: https://www.opendns.com/home-internet-security/  
Configuration Instructions
After account creation, you will be shown a screen that asks you to choose whether you would like to change the DNS settings on Home routers, Computer Workstations and Laptops, Servers, and Smart Devices. If you are unsure which option to choose, we usually recommend that home users configure their router.  Your router or modem acts as a gateway between all the computers and devices on your network. If you change the DNS settings on your router, any device obtaining its DNS settings from the router will be using OpenDNS.  
For more instruction on how to test your OpenDNS configuration please view: https://support.opendns.com/hc/en-us/articles/227986567
Note:
Not all routers allow you to change their DNS settings. Please check our router configuration directions here for your router model.
Confirming Your Account
After you have configured your network (devices) to use OpenDNS you should check your email for an account confirmation email from OpenDNS.  Not all email services allow hyperlinks within the content of messages, if the link in your email is not clickable copy and paste the link into your browser to confirm your account.  If you click (or copy and paste) the link in the confirmation email you will be taken to your OpenDNS dashboard.  

Adding a Network
Once in your dashboard you will see a big box on your Home screen that says Add a network as shown below.  Adding a network to your OpenDNS dashboard allows you to use our custom content filtering and stats features.  Click on the Add a network box to get started:

Once you click Add a network you will get the below screen which asks you to add an IP address.  You should add your current external (public) IP address that is assigned to you by your internet service provider as your network.  If you are on your home network you will see your current IP address displayed at the top of your dashboard where it says Your current IP is.  Use that IP address for your dashboard network: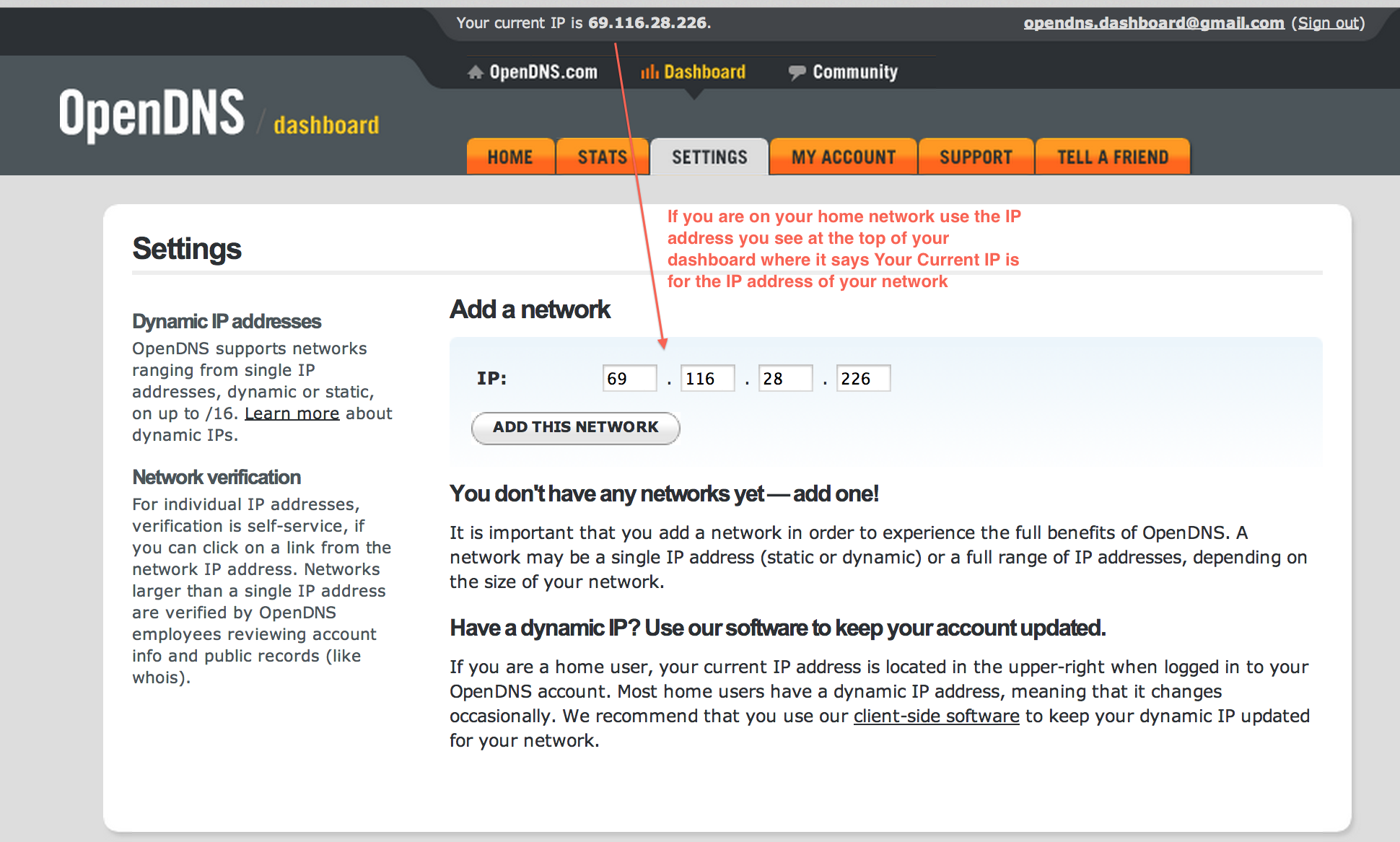 Note:
Our Home service does not normally allow for the use of more than three single-IP networks. If you have multiple networks at your home, you will have to contact OpenDNS Support.
Next you will get a screen that asks you for a network name and whether or not you have a Dynamic IP address.  If you are unsure, you most likely have a dynamic IP address.  Most internet service providers lease dynamic IP addresses which means that your IP address can change.  In order to prevent gaps in your stats and filtering we recommend you download the OpenDNS Updater software shown on the below screen.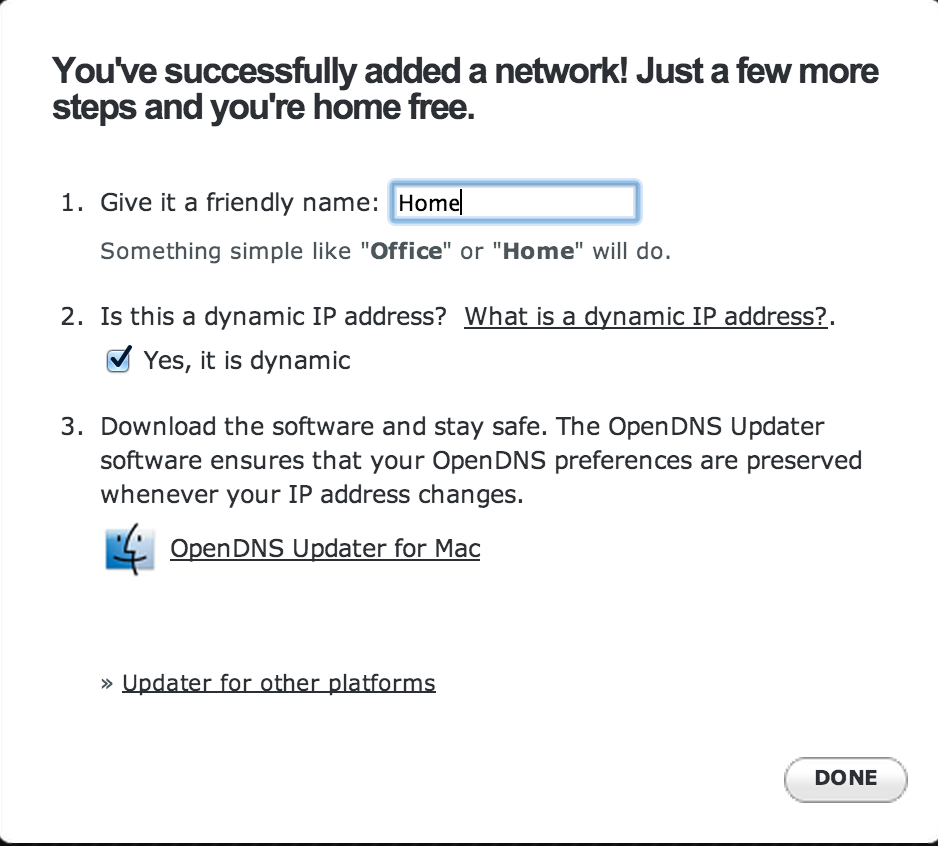 After you add your network you will see the screen below.  Time to check your email to verify your IP address!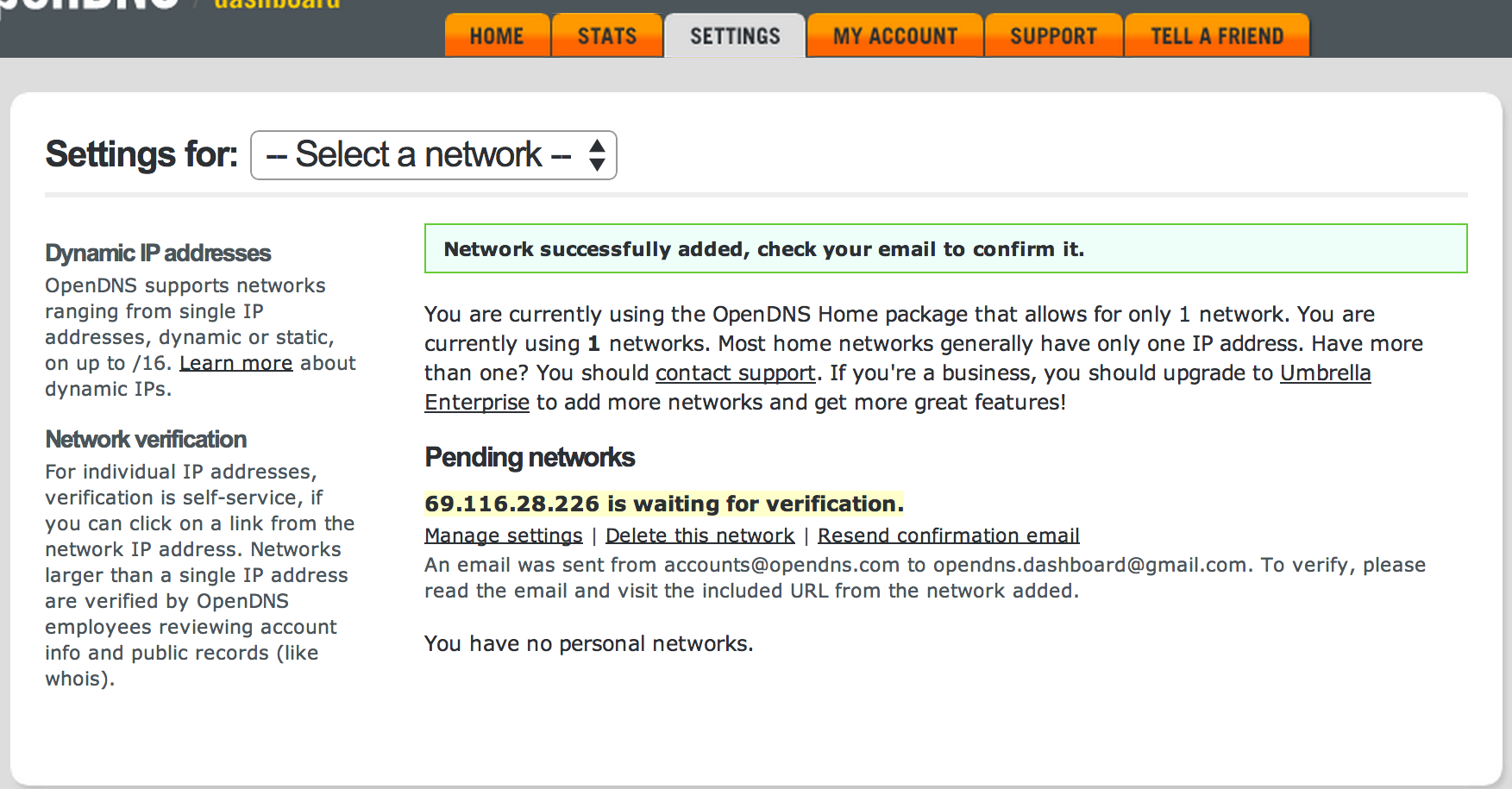 You should receive an email that looks like the one below, once you click the link your IP address will be verified and you will be taken back to the dashboard.
If you see this error when verifying your IP address it means that your current IP address does not match the one in your dashboard.  If you are not on your home network wait until you are again to verify your IP.  If you are on your home network your dynamic IP address may have changed.  Try deleting the network in your dashboard and adding your new current IP address in order to verify it.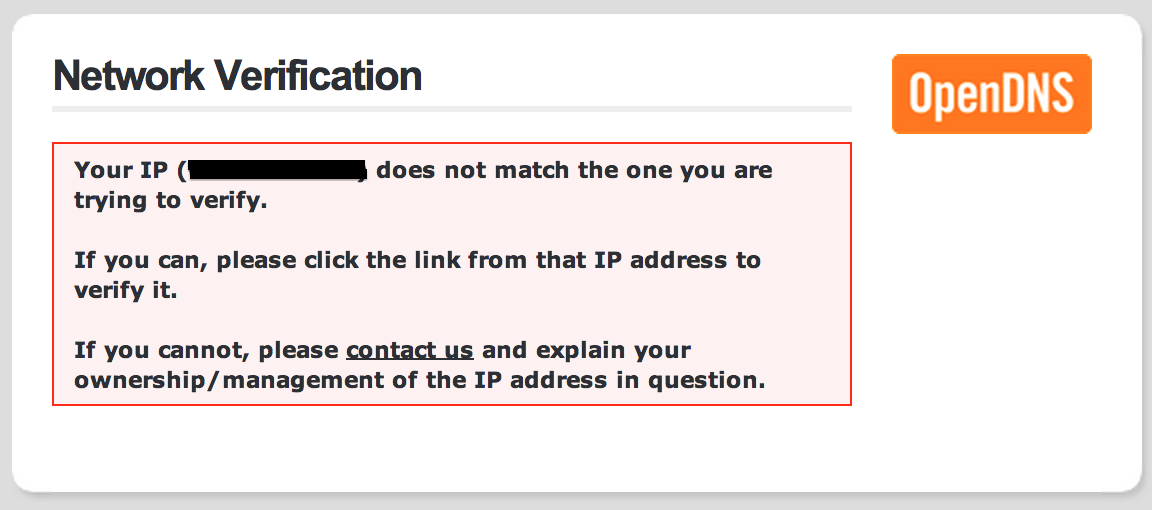 For more instruction on Dynamic IP changes please see: https://support.opendns.com/hc/en-us/articles/227987787 
Configuring Content Filtering Settings
After you have added a network, content filtering can be configured in the Settings tab.  Click on the Settings tab and choose the network you added from the Settings for: drop down to open the Web Content Filtering menu for this network.  In the Choose your filtering level settings you can choose from one of the levels that are pre-set or chose Custom to select the categories you would like to filter on your network.
You can also manage individual domains to customize your filtering settings.  For example, if you choose to block the Lingerie/Bikini category but would still like to shop at victoriassecret.com you can add victoriassecret.com to your Never Block list which will allow access to victoriassecret.com while blocking all other domains in that category.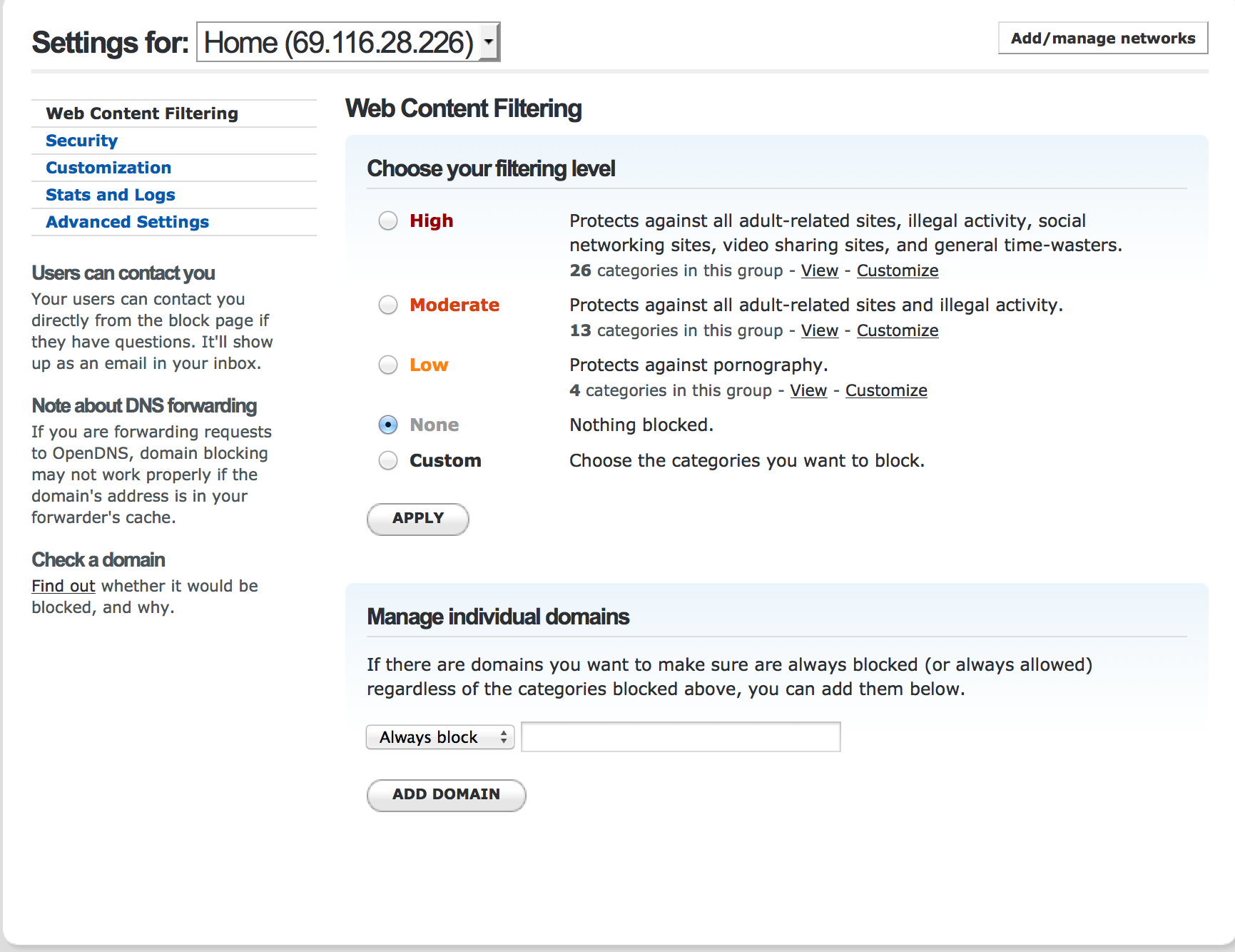 Configuring Reporting/Statistics
If you would like statistics for your network, first you must Enable stats and logs on your network.  To do so, click on the Settings tab, choose the network you added from the Settings for: drop down and click on Stats and Logs from the left hand menu.  You will see the option to enable stats and logs, check the box and hit APPLY to enable stats as shown below:

 It can take up to 24 hours for stats to initially populate after you enable them, so if you don't see them right away don't fret they are coming!  
When stats begin to populate you can view them in the Stats tab.  There are several different ways you can view your stats by choosing the options in the left hand menu: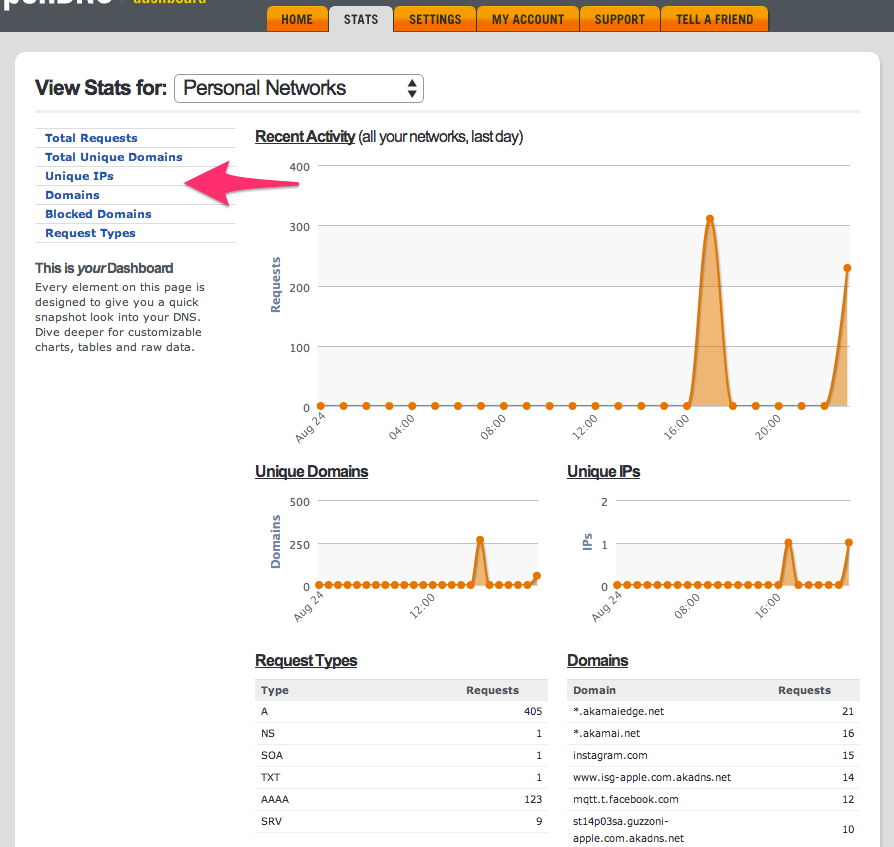 To learn more about your network statistics please see the following support articles: