Register device
To use the OpenDNS setting on your router you need to first create an OpenDNS account. If you already have an account you can enter your credentials into the OpenDNS login on the router. Don't have an account yet? That's ok, you can create an OpenDNS account here and follow the onscreen instructions. Additionally, if you're just getting started with the integration, watch Cradlepoint's video here for more information: http://www.youtube.com/watch?v=4VamvWQFmSo
**IMPORTANT: If you are an MSP for Umbrella** do not use your MSP Administrator username and password for this authentication. That username and password is associated with your MSP Console and not with the customer (or child) organization you are configuring the device for. Either make sure that your account is also added as a local full administrator in the child organization or use an existing administrator account for that organization. You must have one unique administrator per child or customer organization.
To use the CradlePoint integration you will need to subscribed to our CradlePoint
Enterprise
service
If you're not currently subscribed to the service, and you would like content filtering, please contact our Sales Department here.
Step 1: Log into the router's Setup Page. For help with logging in please click here.
Step 2: With some router models (ie: MBR95), it will be necessary to switch from Basic Mode to Advanced Mode via the toggle button beneath the Cradlepoint logo at the top left of the page.
Step 3: Click on the Network Settings tab then Content Filtering.


Step 4: Click on the Cloud Based Filtering/Security tab.
Step 5: Enter your Open DNS account information in the OpenDNS Account Information section.
Step 6: Enable OpenDNS ISP Filter Bypass Algorithm if desired.
Step 7: Click Apply to save the changes.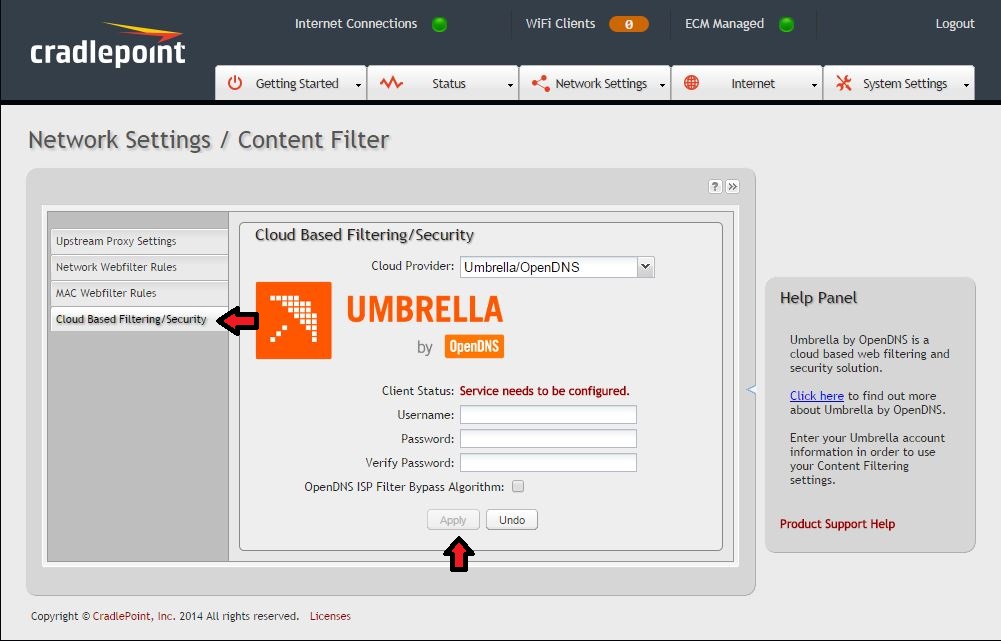 Once you have entered your OpenDNS credentials the CradlePoint device will then register to your OpenDNS account.
Enable OpenDNS ISP Filter Bypass Algorithm:
It is possible that your Internet Service Provider (ISP) uses the port that OpenDNS is configured to access, typically port 53, which will prevent OpenDNS filtering. If OpenDNS does not appear to be working correctly, enabling this will attempt to bypass those ports when using an OpenDNS content filtering level.
Force All DNS Requests To Router:
Enabling this will redirect all DNS requests from LAN clients to the router's DNS server. This will allow the router even more control over IP Addresses even when the client might have their own DNS servers statically set.
Device says "Waiting for an active WAN / Wi-Fi connection."
If you get the error message above, please see review this article: https://support.opendns.com/entries/25436059.
Cradlepoint Device is version 6.0.1

Cradlepoint software 6.0.1 was confirmed to have an issue preventing devices from being registered and activated. In the meantime, reverting to a previous version would allow the registration to complete. The non-functional version looks like the below image. A revert to 5.4.0 has been successful on test devices.
Configure filtering settings
Step 1: To configure your filtering settings for the device, you will need to log into your OpenDNS dashboard here: https://login.opendns.com. Devices will appear next to your networks and existing identities and can be modified with your Policy Settings.
If still see a "Split" Dashboard which is not the Umbrella Dashboard exclusively
If you're currently subscribed to one of the Umbrella Services and see your devices on a Split Dashboard which looks like the below, let us know at support@opendns.com and we'll complete your migration to the Umbrella Dashboard.