Disclaimer:
Due to the wide variety of devices available and potential variations in their firmware, the information presented below may or may not be accurate. For this same reason, OpenDNS support will generally not be able to provide device-specific assistance beyond what is provided below. If you need further assistance specific to your device, please contact either the manufacturer's support team, or your ISP if you are using leased equipment.
1. Launch the
AirPort Utility

.

The AirPort Utility can be found in the Utilities folder within your Applications folder.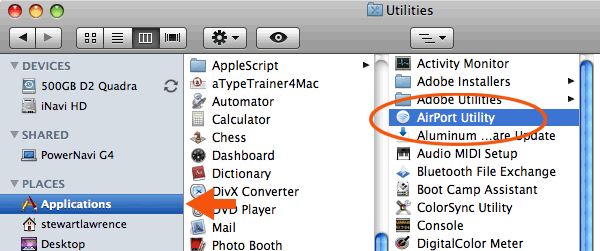 2. Select your AirPort from the list, then click
Manual Setup

.

You may have only one AirPort listed. The name and listed IP address will be different from the screenshot.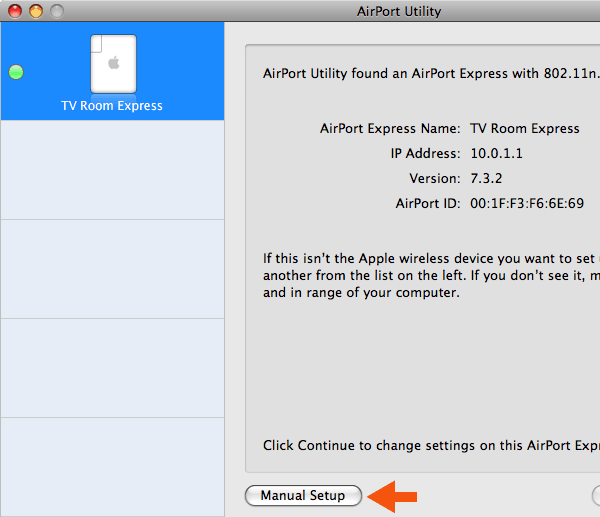 3. Enter your AirPort
password

.

If you previously selected "Remember this password in my keychain," you will not see this screen. Skip to next step.

5. Type in OpenDNS addresses in
DNS servers

fields, then click

Update

button.

Please write down your current DNS settings before switching to OpenDNS, in case you want to return to your old settings for any reason.

The DNS Server addresses for Open DNS are:
208.67.222.222
208.67.220.220
Note: If you have problems with the Airport pushing out the new DNS information to machines on your network you may need to update the firmware on the Airport device by clicking here.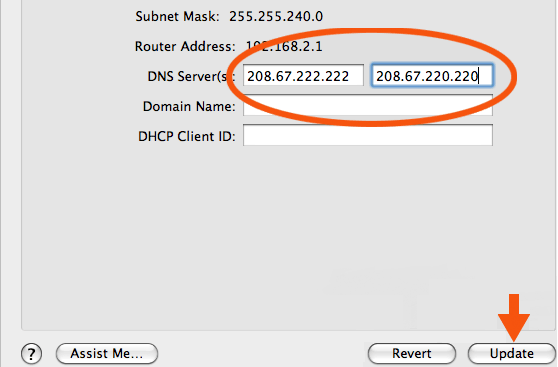 6. Ensure that your AirPort is not in Bridge mode. Your OpenDNS configuration will not work if the AirPort is in Bridge Mode!
7. Cache Flushing
To ensure that OpenDNS is working properly for you, please flush your browser and DNS cache by following the instructions below:
http://www.opendns.com/support/article/67
http://www.opendns.com/support/article/68