1. Launch the AirPort Utility.
The AirPort Utility can be found in the Utilities folder within your Applications folder.
2. Select your Airport Base Station.
Some users have multiple Airport Base Stations, select the one you wish to configure.  
4. Change the configuration settings.
Click "Internet" to configure your router's internet settings.

6. Enter the second DNS resolver address.
Enter 208.67.220.220 in the "Secondary DNS Server:" field.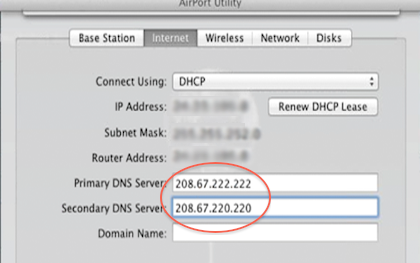 7. Save your settings.
Click  "Update" to apply your settings.

8. Ensure that your AirPort is not in Bridge mode. Your OpenDNS configuration will not work if the AirPort is in Bridge Mode!