Overview
Cisco Talos Intelligence handles categorization data including OpenDNS. If you believe a domain or URL categorization reported in OpenDNS to be incorrect, please submit a ticket to the Cisco Talos team to have this categorization reviewed for adjustment.
Submitting A Request
1. Head over to Cisco Talos Reputation Support Center
2. Depending on the type of category being requested for review, please submit the dispute to the respective queue
Security categories = Submit a Web and Email Reputation Support Adjustment
Content Category = Submit a Web Categorization Request
File Inspection hashes = Submit a File Reputation ticket option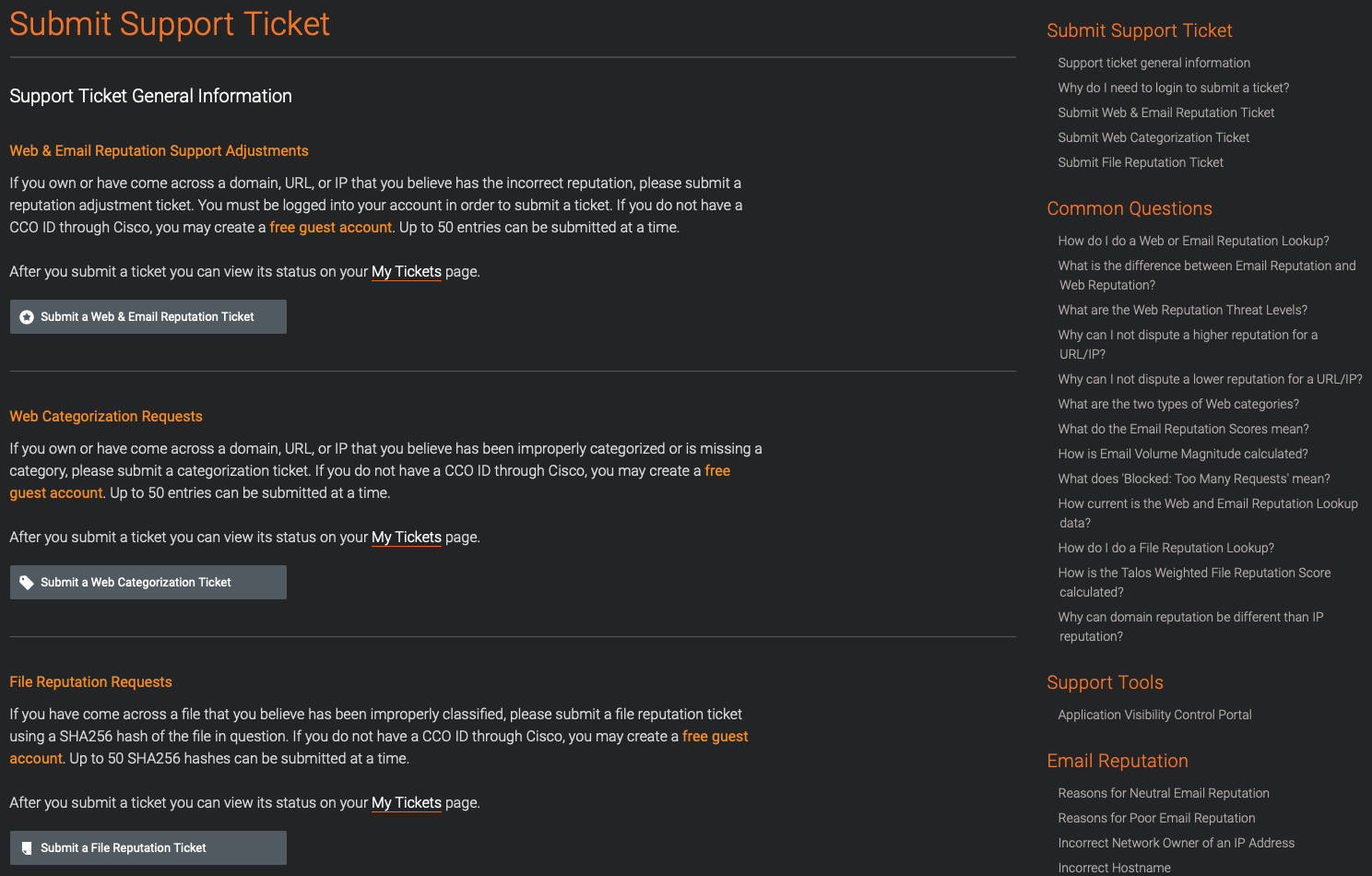 Note:
A Cisco.com account is required to submit and track cases. If not signed in, you will be redirected to the login page. Users can create an account for free but if you are a customer with other Cisco products then you may already have a Cisco.com account.
3. Enter the domain, URL, IP, or file hash entries (up to 50) and select get reputation data to find its' current categorization
4. Select the suggested categorization tag you wish to see for the entry and enter the comment details regarding the suggested request. To ensure it gets applied to the right platform, please select "Umbrella" from the platform list or click on the "bulk select platform" to change all entries to "Umbrella".
Note:
If the option for Umbrella is not available, please select TalosIntelligence as the alternative.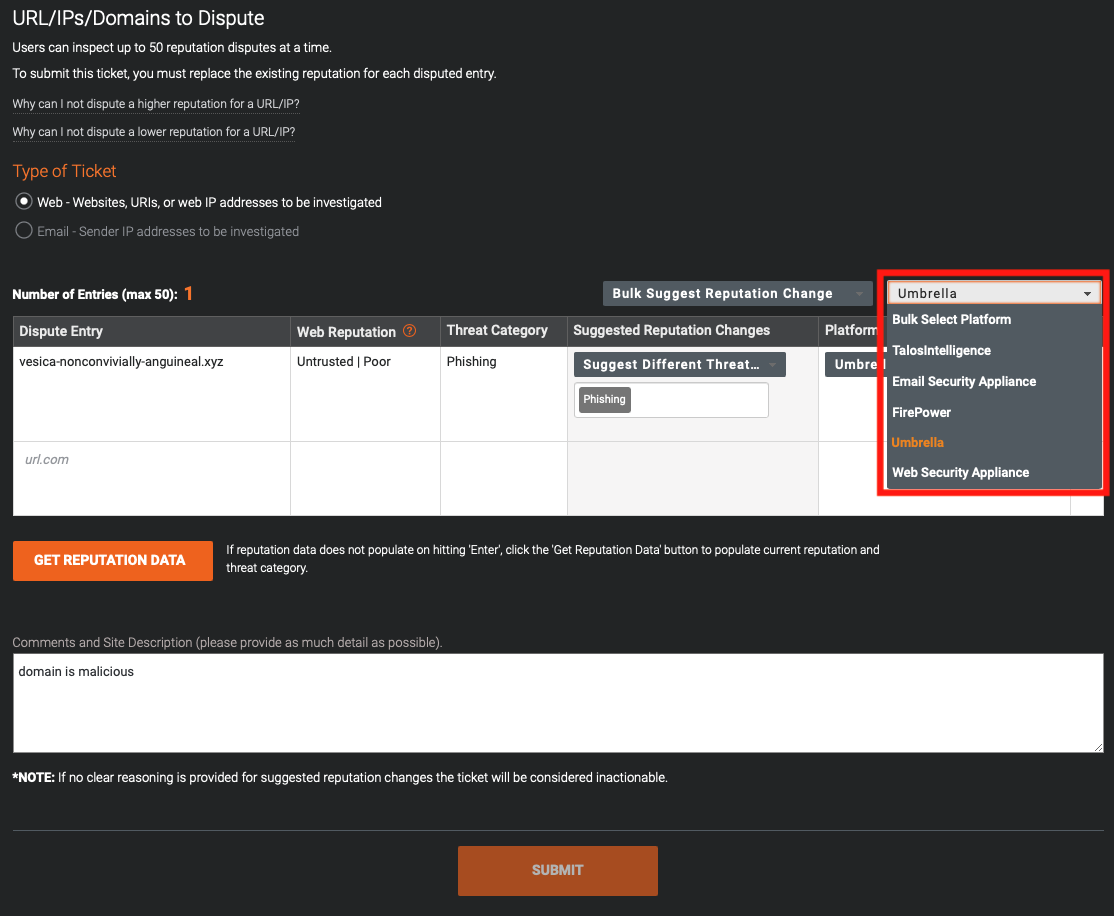 5. After filling in desired entries and fields, hit submit and you will be redirected to a submission confirmation message on the "my tickets" dashboard.
Managing Submissions
You can view the progress and resolution of cases submitted to the Talos team through "My Tickets".

Selecting a ticket number will open further details on the case like status, resolution, and comments from the Talos team.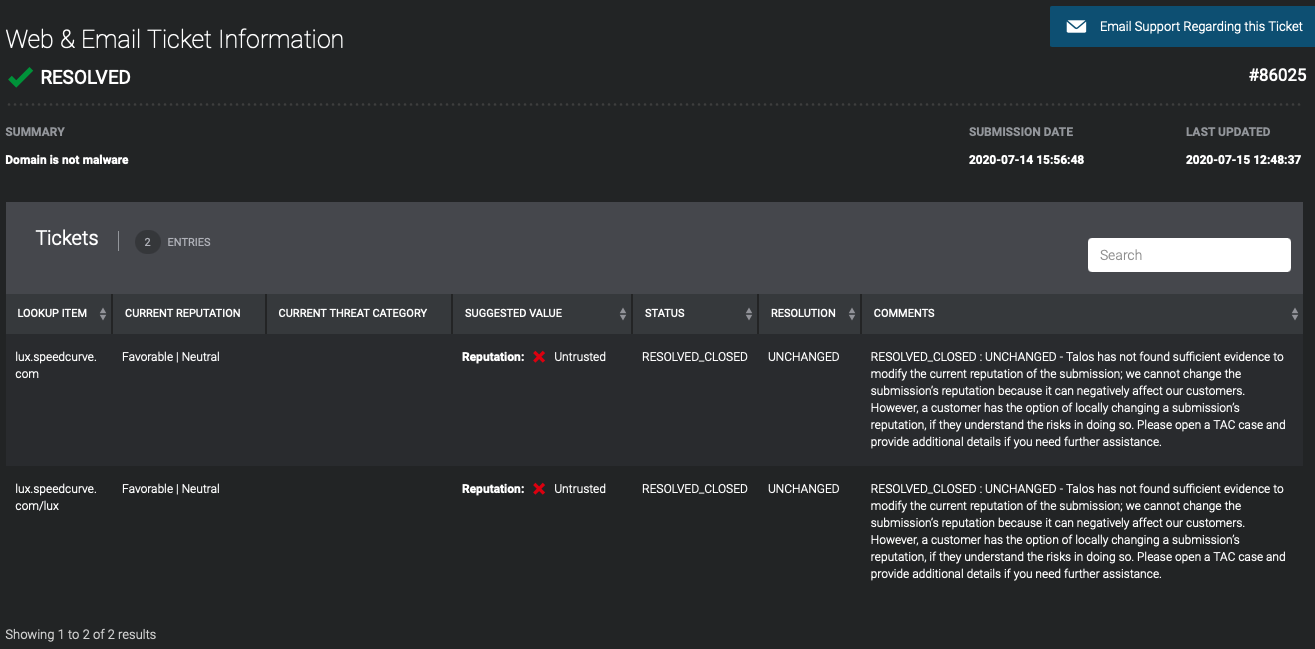 Alert:
If you run into any issues with the submission, please contact Cisco Talos using the "Email Support Regarding this Ticket" button.